GeoPDF Toolbar is a free plug-in for Adobe Reader that allows you to access, update, and share GeoPDF maps and imagery.
In this document:
GeoPDF Toolbar capabilities
With GeoPDF Toolbar, you can
freeze and unfreeze the mini-coordinate display

obtain coordinates and 3D elevation of any point on the map

obtain the 3D bearing and distance of any point on the map

determine whether to track the cursor

measure distances and angles between points and area

track positions using a GPS device

display the coordinates in many different projections and datums, regardless of the projection and datum used in the map creation
Accessing the GeoPDF Toolbar
If you are running Adobe Acrobat version X.x or XI, you can display the TerraGo GeoPDF Toolbar three different ways:
The Tools pane
From the Tools pane, click TerraGo GeoPDF.
The main menu
From TerraGo on the main menu, click GeoPDF Toolbar and then the required tool.
Quick tools
From View on the main menu, click Show/Hide, then Toolbar Items > Quick Tools.

In the Customize Quick Tools dialog box, from the Choose Quick Tools to Add pane, expand the Third-Party Plug-Ins folder and then click TerraGo GeoPDF.

Click the right mover button to move the toolbar items to the Quick Tools to Show pane.
Shortcuts
To display the shortcut menu, right-click the Adobe Toolbar and then click Quick Tools to open the Customize Quick Tools dialog box.
The GeoPDF Toolbar tools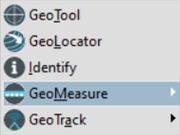 GeoTool
The GeoTool

tool allows you to
freeze and unfreeze the mini-coordinate display

center the location on the screen and from the shortcut menu

hide the displays

use the GeoLocator

use Google™ Maps

measure length and area
Note: GeoTool does not support 3D GeoPDF files.
GeoLocator
The GeoLocator

tool allows you to
view and find coordinates

modify projection parameters,

determine whether to maintain the zoom level and track the cursor.
Identify
The Identify

tool allows you to view and inspect the feature attributes of a location on the map.
GeoMeasure
The GeoMeasure The

tool contains two measurement tools: Measure Length and Measure Area.
When you select a measure tool, the appropriate measure dialog box appears displaying total length or total area, azimuth and magnetic bearing, if configured, of what you want to measure.
When you use the measure tools on a 3D map, you can use the shortcut menu to complete a measurement, locate or clear a point, remove the last line drawn, or remove all lines drawn.
GeoTrack
The GeoTrack

tool contains two tracking tools: Start GPS Track and Hide/Show Flag.
The Start GPS Track tool allows you to track the map position of an attached GPS device.

Hide /Show Flag displays or hides a flag (marker) that shows your current GPS location on the map.