GeoPDF Composer allows you to view the properties that are associated with your geospatially-aware PDF file. Through the GeoPDF File Properties window, you can view geospatial information such as who created the file, the creation and modification date, whether the file is a genuine GeoPDF file and much more. You can view the properties specific to the entire document, a page or a specific map frame. If necessary, you can copy specific properties about your file and paste the information into another application.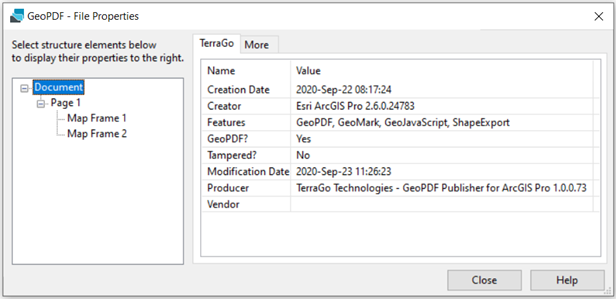 To view the properties of your geospatially-aware PDF file
From TerraGo on the main menu, click GeoPDF File Properties.

From the GeoDoc structure pane, click the element for which you want to view properties.

On the TerraGo tab, use the scroll bar to locate the property you want to view.

Click the More tab to copy properties to your Clipboard.

Click Close to exit the window.
Notes:
If your open file is not a geospatially-aware PDF file, the properties that display are limited. If you open the GeoPDF File Properties window without first opening a PDF file, no information displays.

After you GeoRegister a PDF file, Version is reset to zero. Close and re-open the GeoPDF file to view the genuine version of the file.