The Delete GeoMarks

tool allows you to remove all GeoMarks and/or annotations contained in your map.
For instructions on how to access the GeoMark Toolbar, see Accessing the GeoMark Toolbar.
Deleting GeoMarks
From the GeoMark Toolbar, click TerraGo Collaboration Tool, then Delete GeoMarks .
In the Select Annotation Types dialog box, select the annotation type that you want to delete from the GeoPDF file.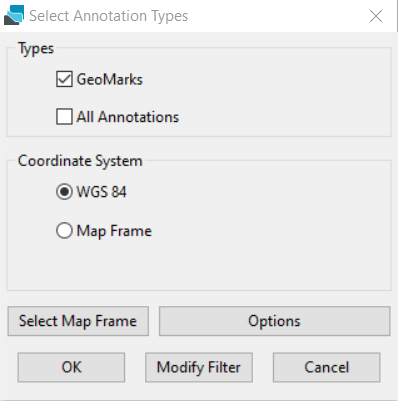 If All Annotations is selected, all Adobe annotations will be deleted including hyperlinks.

To delete specific annotations from the Comments List in the Adobe program, click Comments on the main menu, then Comment View, then Show Comments List. You can also delete specific annotations by selecting the annotation in the file and pressing Delete on your keyboard.

Click Modify Filter to open the GeoMarks View dialog box through which you can filter the GeoMarks you want to delete from your map.

In the Filter by user box, click the check boxes adjacent to the creators (user names) associated with the GeoMarks that you want to view on your map.

To view all of the GeoMarks created by the selected creators, select No filter by date.

To filter the GeoMarks by modification time, select Modified before, Modified after or Modified between and then define the date and time in the Start date list box and Start time text box or End date list box and End time text box.

Click OK to return to the Select Annotation Types dialog box.

Click OK, then click Yes at the confirmation prompt.