GeoPDF® Toolbar is a set of two toolbars that allow you to create and interact with GeoRegistered PDF files.
GeoPDF toolbars
GeoPDF Toolbar
GeoPDF Toolbar is a free plug-in for Adobe Reader that allows you to access, update, and share GeoPDF maps and imagery.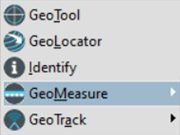 With GeoPDF Toolbar, you can
freeze and unfreeze the mini-coordinate display

obtain coordinates and 3D elevation of any point on the map

obtain the 3D bearing and distance of any point on the map

determine whether to track the cursor

measure distances and angles between points and area

track positions using a GPS device

display the coordinates in many different projections and datums, regardless of the projection and datum used in the map creation
GeoMark Toolbar
The TerraGo GeoMark Toolbar allows you to work with GeoMarks on your map. Similar to an annotation in a PDF file, a placemark in Google Earth™, or a feature in GIS, a GeoMark is the TerraGo component that stores location, attribute, and hyperlink data in a GeoPDF file. TerraGo software such as the GeoPDF® Toolbar collects GeoMarks and displays them in a GeoPDF file.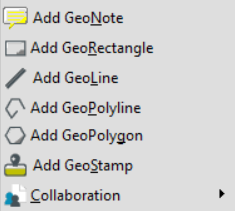 With GeoMark Toolbar, you can
add points, polylines and polygons to a map.

create filters for viewing GeoMarks and import, export, and delete GeoMarks

manage peer-to-peer imports and exports

launch the free TerraGo Collaboration Manager if it is installed on your machine
Note: 3D GeoPDF files do not support GeoMarks.