GeoPDF® Composer, formerly known as TerraGo Composer, is part of a suite of three toolbars that allow you to create and interact with GeoRegistered PDF files.
GeoPDF Toolbars
GeoPDF Toolbar and GeoMark Toolbar
The GeoPDF Toolbar and GeoMark Toolbar are free plug-ins for Adobe Reader that allow you to access, update, and share GeoPDF maps and imagery, as well as to work with GeoMarks on your map.
Composer Toolbar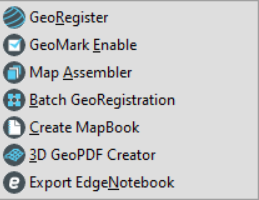 GeoRegister
The GeoRegister

tool allows you to create a relationship between a real-world coordinate system and an area on a 2D or 3D PDF file. It also allows you to specify the version of the GeoPDF GeoPDF Toolbar with which the GeoPDF file should be compatible. GeoPDF Composer must be properly licensed to GeoRegister a 3D PDF page.
GeoMark Enable
The GeoMark Enable

tool allows you to enable a GeoPDF file for GeoMarks in Adobe Reader. Your end users can import data into and export and delete data from the GeoPDF file. When you save a geospatially-aware PDF file it becomes a GeoPDF file.
Map Assembler
The Map Assembler

tool allows you to assemble a new map by drawing a polygon on an index map and from the included area, extract the map tiles to be included in the map. The tool also allows you to browse to existing GeoPDF files or geospatially-aware PDF files and select the files to be assembled into a new map. Each file that you select is its own separate layer in the new map.
Batch GeoRegistration
The Batch GeoRegistration

tool allows you to GeoRegister multiple PDF files in a batch process via a GeoPDF template file created using the GeoRegister tool.
MapBook Creation
The MapBook Creation

tool allows you to create a TerraGo MapBook from GeoRegistered PDF files and a GeoPDF index map or from a map series file and a GeoPDF index map. The MapBook creation process also allows you to replace existing files and add new files to an existing MapBook.
3D GeoPDF Creator
The 3D GeoPDF Creator

tool enables the creation of 3D content for incorporation into GeoPDF documents. The tool can create 3D GeoPDF documents or Universal 3D (U3D) models which can be placed into arbitrary locations in PDF documents with Adobe Acrobat.
File Creator input includes
Model creation options allow for downsampling of the elevation and imagery and denoising of the imagery for more compact storage in the 3D model.
Export to TerraGo Edge
The Export to TerraGo Edge

tool allows the user to export the selected map frame to Edge Notebooks and MBTiles tile caches.