The Preferences window allows you to define default settings for exporting project layouts to GeoPDF files.
Should any project layout require a unique export configuration, you can use the GeoPDF Export Configuration to modify the default export settings, as well as include additional elements in your exported GeoPDF file.
To set the default preferences, select Preference Editor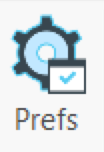 from the TerraGo toolbar.
Preference options: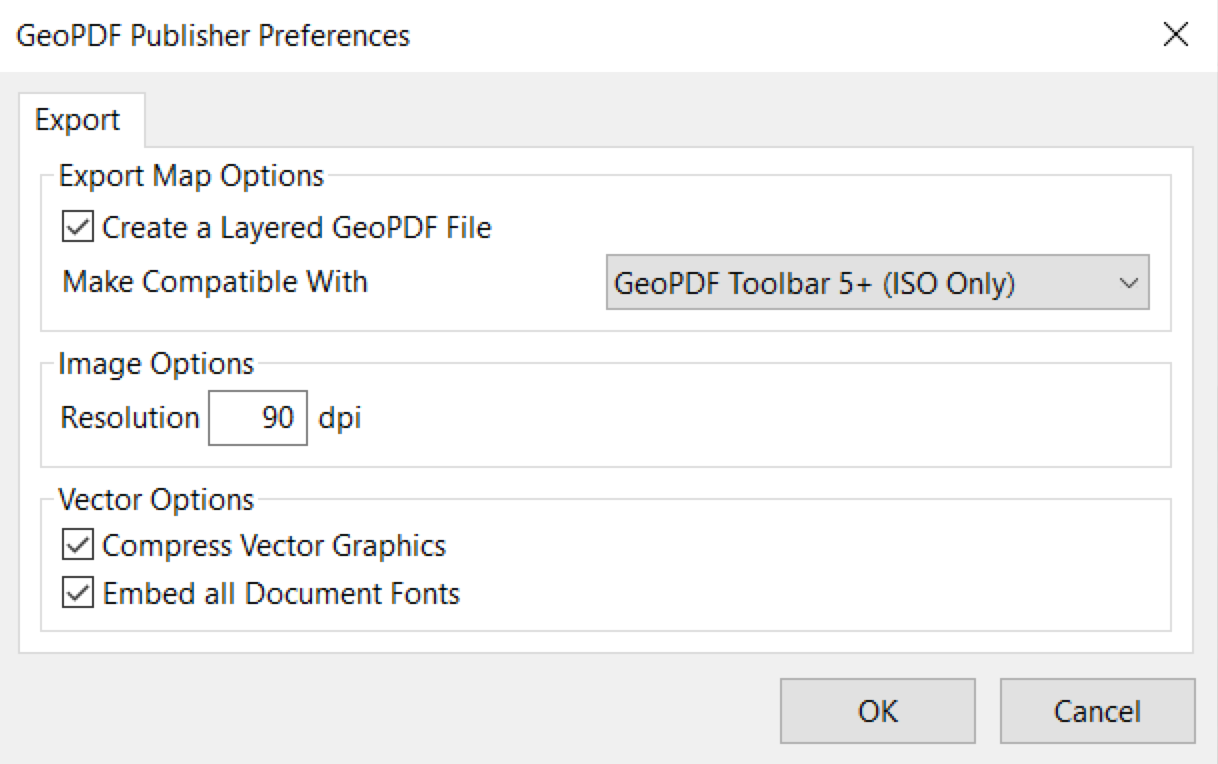 Export Map Options
Create a Layered GeoPDF File (checked by default)
When checked, the export process will automatically create layers in the exported GeoPDF file.
Make Compatible With
Choose the version of the GeoPDF toolbar the GeoPDF file should be compatible with.
GeoPDF Toolbar 3+ (OGC)

GeoPDF Publisher for ArcGIS Pro will use TerraGo's GeoRegistration encoding that was published as an OGC best practice in 2008. The OGC best practice is the most widely distributed GeoRegistration encoding in terms of existing PDF libraries and workflows because GeoPDF was the only geospatial PDF available preceding the release of Acrobat 9.

GeoPDF Toolbar 5+ (OGC Preferred)

GeoPDF Publisher for ArcGIS Pro will attempt to encode GeoRegistration using the OGC best practice. If the selected coordinate system is not supported in OGC, GeoPDF Publisher for ArcGIS will encode the GeoRegistration using ISO 32000.

GeoPDF Toolbar 5+ (ISO Only)

GeoPDF Publisher for ArcGIS Pro will encode GeoRegistration using only ISO 32000.

Note: Adobe implemented a different PDF GeoRegistration encoding when it released Acrobat 9 and submitted that method to ISO as a proposed extension to ISO 32000. Both OGC and ISO GeoRegistration methods encode the same information; however, more coordinate systems are supported using Adobe's GeoRegistration encoding. TerraGo software is capable of reading and writing both encoding methods.
Image Options
Resolution
Input the default resolution the export process should use for printing or displaying raster resolution in your exported GeoPDF file. The default resolution is 300 DPI. For more on resolution in GeoPDF files, see Understanding Output Resolution.
Vector Options
Compress Vector Graphics
When checked, the export process will compress the vector portions of your map document file to produce a smaller GeoPDF file.
Embed all Document Fonts
When checked, the export process will include the fonts that are used in the map document file, ensuring that the exported GeoPDF file looks the same when opened on any platform that supports PDF viewing.
Note: To ensure that your exported GeoPDF file can be viewed in languages other than your own, make sure to select Embed all Document Fonts and choose the appropriate Unicode font for your label text.
Standardizing preferences
If you need to standardize GeoPDF Publisher for ArcGIS Pro preferences across multiple machines, see Standardizing Preferences.