GeoPDF® Publisher for ArcGIS® Pro is a set of extensions for Esri® ArcGIS Pro that allows users to create and use GeoPDF® documents within ArcGIS Pro.
Using this Guide
How do GeoPDF files work?
When you export a GeoPDF file, it is automatically GeoMark enabled. Similar to an annotation in a PDF file, a placemark in Google Earth™, or a feature in GIS, a GeoMark is the TerraGo component that stores location, attribute, and hyperlink data in a GeoPDF file. TerraGo software such as the GeoPDF® Toolbar collects GeoMarks and displays them in a GeoPDF file.
With Adobe® Reader® and the GeoPDF Toolbar, users can:
view the GeoPDF file

freeze and unfreeze the mini-coordinate display

obtain coordinates and 3D elevation of any point on the map

obtain the 3D bearing and distance of any point on the map

determine whether to track the cursor

measure distances and angles between points and area

track positions using a GPS device

display coordinates in many different projections and datums regardless of the projection and datum used during map creation
GeoPDF Publisher for ArcGIS Pro Tools
The GeoPDF Publisher for ArcGIS Pro toolbar contains several tools. In ArcGIS Pro, you can access the toolbar by navigating to Project > Licensing > External Extensions within ArcGIS Pro.

The Preference Editor allows you to define default settings for many of the elements in your exported GeoPDF files, including image export resolution, vector graphics compression, and embedded document fonts. You can also define default settings for the way a GeoPDF file's map frames should display when you view them in ArcMap.
The GeoPDF for ArcGIS Pro toolbar allows you to configure image options, vector options, and PDF options.
The Layer Configuration tool allows you to group, specify, and configure the layers in your GeoPDF.
The Attribute Configuration tool allows you to specify the layers in which feature attributes should be embedded in your exported GeoPDF file. Feature attributes can be written to the GeoPDF map as a GeoPackage file attachment. Selecting GeoPackage allows the feature attributes to be extracted from the PDF and offers a much richer interactive experience in TerraGo Toolbar.
The GeoPDF Pop-ups panel allows you to specify the layers in which GeoPDF Pop-ups should be embedded in your exported GeoPDF file.
The Export GeoPDF tool exports your Project Layouts to GeoPDF files using the settings you defined through the Preference Editor and GeoPDF Content tools. Group layers in your Project files are exported as PDF groups, providing visibility control for all layers in the group as well as for individual layers. The exported GeoPDF file supports transparency, grid, image (raster), and map surround settings as well as automatic labeling. Attribute data is stored in a GeoPackage and interacts with the GeoPDF Toolbar Identify Tool.
Help
The Help icon takes you to the GeoPDF Publisher for ArcGIS Pro online knowledge base.
About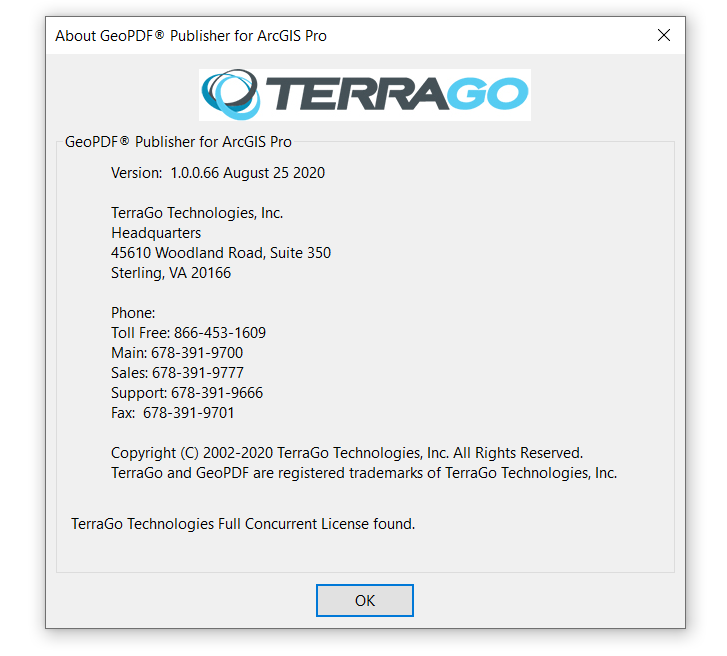 The About box provides the product version, license status, TerraGo Technologies contact information, and copyright information.